We've just entered the new year. And here I am looking back at 2016. Yeah, I know, I'm late with my retrospective, since everybody already posted their top 10 lists, but I wanted to take some time to write this down. And there's a good reason for it, because despite 2016 killing off quite some of our favorite actors and singers, last year also brought a lot of joy and cool stuff. So before looking ahead of the awesome things that 2017 will bring, I want to take a brief moment to look back at the highlights of 2016, since so much happened for me, Morphweasel and gaming in general.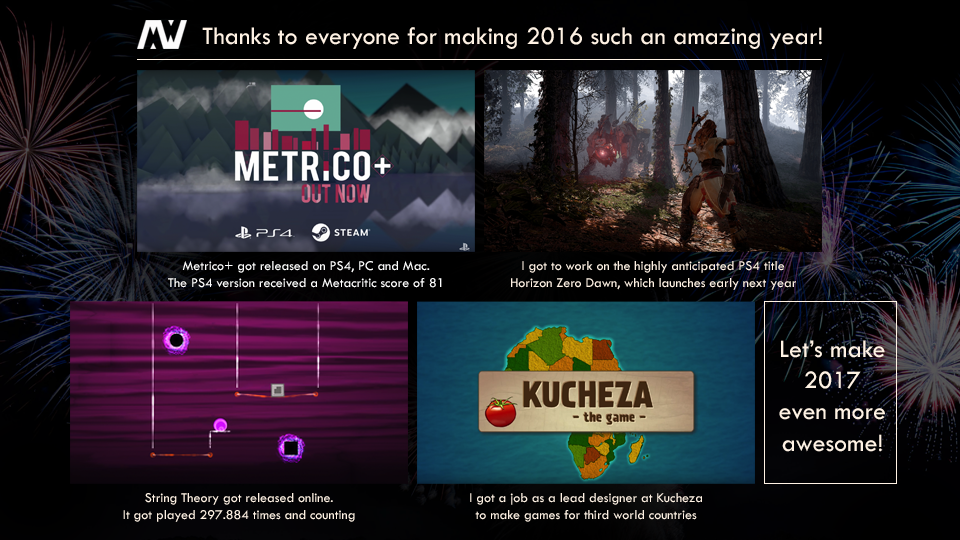 Read more about these events and see my top 10 lists after the break.
Morphweasel in 2016
First of all, 2016 gave me the opportunity to work at Guerrilla Games for almost a full year. It was an awesome experience to work at such a big game company and I learned a lot from very talented people. I'm really looking forward to the release of Horizon Zero Dawn on PS4 late next month, since it' just super satisfying seeing all the reactions of friends, family and complete strangers playing my content in a tripple-A game.
I already got to experience of people playing my content this year by the way, since Metrico+ got released this August. That was definitely a highlight for me, since Metrico+ makes my first game release where I'm listed in the credits as a level designer. Here's a playthrough video of the game's 5th world, which includes some of my puzzles.
Like every other year, I participate in game jams to do creative things in a short amount of time. This year was my first entry for a Ludum Dare, and with some friends we released a little game called String Theory. What we never expected was that it became quite a success online, with over 300.000 plays on Kongregate and Armor Games combined. One of the most epic things that happened was this let's play video by a small YouTuber. The guy's reaction at the end really made the whole game jam team smile.
And finally, Kucheza happened. After my contract at Guerrilla Games ended, I was looking for a new interesting game design adventure in the entertainment industry. I stumbled upon something quite different however, since Kucheza is a startup aimed at making applied games for farmers in third world countries. Not really the place for a guy like me to design puzzles or action packed scenarios, you might think. And that's party correct, since we won't be making those kinds of games.However, I really like it there, since I do get a lot of creative freedom and I really want to make applied games here that are actually fun to play.
I have a lot of influence on the project as well, being the lead designer here. That's quite different from the junior/regular role that I had before, but the small team at Kucheza consists of super friendly people, and it's super interesting to make lead design decisions for and with them. And finally, I actually get to do something for the world that could be really useful. Giving farmers in third world countries the tools to become true entrepreneurs and not falling in the trap of poverty by a playful experience is very interesting. I'm looking forward to traveling to those countries to playtest the game on location. That will happen sometime later this year, and I think that will be the moment that I really start to realize what I'm doing it for.
But first, it's time to move into our office. After my first two months of pre-production over Skype at home, Kucheza got a place in Utrecht, which we will be moving into next week. So my new adventure now truly begins…
Games in 2016
2016 was an awesome year for gaming. Not only when it comes to game projects that I worked on, but for games in general! 2016 finally saw the release of The Last Guardian, which nobody though was ever going to happen. It had it's flaws, but when the magic worked between the boy and Trico, it's upright amazing. No Man's Sky got released. The game didn't live up the hype and the internet was super cruel about this, but to be fair, the game is technically super impressive and using your warp drive for the first time feels amazing in the game. The Zero Escape Series got its conclusion with Zero Time Dilemma. It might not be the best one in the series, but the whole thing is probably still the best visual novel ever made. The Uncharted series got a worthy ending. And despite selling quite terribly and making some rough mistakes, Mirror's Edge got a sequel.
There were just so many amazing releases that it's hard for me to put them in an order. And I still missed out on playing a few gems, like Virginia and the PS4-release of Gone Home (that's kind of cheating, but yeah, that also came out this year. On PS4 at least). Anyway, here's what I think is my top 10:
The Last Guardian
Uncharted 4
The Witness
Inside
Oxenfree
Superhot
Zero Time Dilemma
Hue
Firewatch
Tricky Towers
Music in 2016
I know this category doesn't really have to do with my profession, but people who know me know I'm a music addict. So I do wanted to post a top 10 somewhere, and it ended up being on my blog. But to be honest, I don't think 2016 was a great year for music. Sure, we've got a new Radiohead album, which is good. But definitely not their best work ever. M83 finally made a follow-up to my all-time favorite record Hurry Up, We're Dreaming from 2012. It's called Junk, and while the name doesn't completely fit its contents, it is a somewhat disappointing album compared to the band's earlier work. Biffy Clyro wrote their most powerful song ever with Wolves of Winter, but unfortunately it's the only highlight from their furthermore pretty shitty new record. Well, I guess 2016 was just a better year for gaming then it was for music, but it also wasn't terrible. There were still plenty of awesome albums released, and here's my attempt to making a top 10:
Radiohead – A Moon Shaped Pool
Moderat – III
Klangstof – Close Eyes To Exit
M83 – Junk
Wolfmother – Victorious
Bloc Party – Hymns
65daysofstatic – No Man's Sky OST
Jagwar Ma – Every Now and Then
David Bowie – Blackstar
Red Hot Chili Peppers – The Getaway
I won't make any more lists for now, since I haven't watched a lot of 2016-movies or series to make a list out of (a little shout-out to Black Mirror by the way, which is an awesome series that premiered their third season last year).
So it's time to look ahead. 2017 has quite some adventures in store for us, so let's make it another amazing year! Here's to a great 2017!