Although 2021 already kicked off about a month ago, I thought it would still be worth it to write a blog post about what happened last year. 2020 was a tough one for most of us, with the covid-19 pandemic affecting everybody's lives in one way or another. Luckily me and most of my loved ones managed to stay healthy thus far in the pandemic, but it still affected our everyday lives. Not seeing my family and friends in person for months and working from home for almost an entire calendar year are two main examples. And while I was always very skeptical about working remotely in the video game industry before, this pandemic actually taught me that it is not that bad at all. In some cases it's even better than working in an office, especially regarding (the lack of) commute times, and I honestly hope (partially) working from home becomes a more common option in the industry post-pandemic.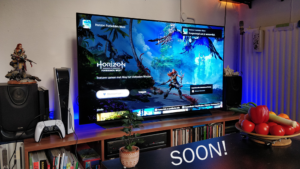 All those video calls and less travelling even allowed me to start on a hobby project that has been in my mind for a while: an audio-driven exploration board game! Together with a good friend of mine, who happens to be a housemate who's doing all the audio work, we spent four months (five hours a week) in this project already and 2021 will be the year were we get to playtest the game and see if we can get people excited about it. And it's not the only new game with my name on it that will find it's way to player's hands, because Guerrilla is releasing the sequel to Horizon Zero Dawn this year, which will be the third console title that I worked on that hits the shelves this year! That, and we're going to beat this pandemic, I'm sure… Yeah 2021 is going to be very exciting!
Now let's look at the best games, music and other things that got released in 2020…
Video Games

The Last of Us part 2 (PS4)
Does this one need any further introduction? It's an emotional roller coaster action thriller sequel made by Naughty Dog, the studio that gets game design like no other and polishes things in the greatest detail imaginable. The story hit me like a heavy rock and it took quite a while to let this one sink in… Wow. Now onto more cheerful games!
Crash Bandicoot 4: It's About Time (PS4, XONE)
Toys for Bob did it! They did not just revived the platformer hero of my youth, but they managed to make one of the best in the series. Crash Bandicoot is back and it looks and plays gorgeous. Woah!
Astro's Playroom (PS5)
This is actually a lot of PlayStation propaganda pre-installed on each PS5 console. However, it is the best playable propaganda ever made. It's a trip down memory lane for everyone who grew up with PlayStation and it's also a very solid platformer game. Please give us more than these three hours of Astro, Team Asobi!
Kentucky Route Zero (TV edition) (Switch, PS4, XONE, PC)
This is an amazing text-heavy adventure game that looks and feels like an absurdist theater play, but is very much a video game. It took developer Cardboard Computer seven year to launch the final episode of Kentucky Route Zero, and I played the whole collection for the first time. Such an experience!
Sackboy A Big Adventure (PS4, PS5)
Not quite a new LittleBigPlanet game, since it lacks the create mode and depth of this happy hand-crafted franchise, but a delightful platformer nonetheless, that really shines in couch co-op. I've played this Sumo Digital-developed game with my girlfriend and it just brings a smile to our faces every time we play and slap each other's Sackboy in the face.
Cloudpunk (Switch, PS4, XONE, PC)
Forget Cyberpunk. Enter Cloudpunk! An open-world walking simulator that offers a lot of fetch-quests in a dystopian Blade Runner-esque city. It can be somewhat slow and tedious at times, but the atmosphere that developer ION Lands created here just sucks me right in and want me continue my seemingly endless roadtrip in my flying car with an AI-dog on board.
Music

While I only attended two or three concerts this year before the covid shitstorm prevented anyone to go to gigs anymore, I must say it has been a good year for music! I guess quarantine is just a very inspiring way for artists to get their music out. Looking back, I've listened to over 110 albums that got released this year and it was impossible to put those in a top 10 or 20. So here's my attempt at a top albums list that got released in 2020 (from rock to chill-out with some electronic influences here and there):
Klangstof – The Noise You Make Is Silent

Mr Gnome – The Day You Flew Away

Awolnation – Angel Miners & The Lightning Riders

Everything Everything – Re-animator

Caribou – Suddenly

Nothing but Thieves – Moral Panic

Apneu – Silvester

Telepopmusik – Everybody Breaks the Line

Holy Fuck – Deleter

Faded Paper Figures – Kairos

Hayley Williams – Petals for Armor

Fontains DC – A Hero's Death

Moaning – Uneasy Laughter

My Morning Jacket – The Waterfall II

King Gizzard and the Lizard Wizzard – Chunky Shrapnel

Genghar – Sanctuary

Parcels – Live

Glass Animals – Dreamland

Matt Berninger – Serpentine Prison

EOB – Earth
Board Games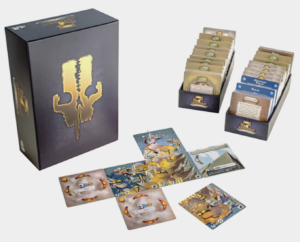 Honestly, I did not play a lot of new board games this year. Partially due to the pandemic and not seeing my board game friends that much, but also partially because my all-time favorites are still screaming to be played more. I'm talking about 7th Continent (2017) (a choose your own adventure open-world boardgame where you need to lift a curse on a mysterious island with lots of environmental storytelling) and Human Punishment (2018) (the social deduction card game, in which not one session is the same and everything changes all the time – you can even switch roles mid-game or return to the game after being defeated and still win).
But there is one board game that got my attention in this pandemic, since it's something you play on your own, it's free to print-and-play, easy to play, silly and quite addicting. I'm talking about Bargain Basement Bathysphere (of Beachside Bay) (2018). All you need is a set of dice (although you could even play without that) and a printer and you'll kill some time for sure. Before you know it that pandemic will be over and you will be able to play real boardgames with your friends again, right?